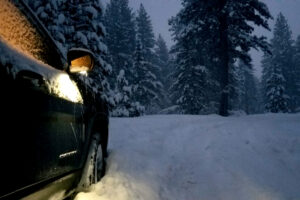 Steeped in the history of the old west, Henness Pass Road provides a more scenic and relaxed route through the Sierra Nevada Mountains.  Originally the indigenous tribes of North America used this as a major trade route.  This secluded and winding mountain road extends for over 100 miles.  It travels through scenic mountain passes and vistas. A lot of it is recommended for high clearance, four-wheel drive vehicles. In addition to the scenic views, travelers will find waterfalls, rustic inns such as the Mountain House Stage Stop and Inn, abandoned mining camps, abandoned mines and numerous historic sites from the Gold Rush.
History
Henness Pass Road was the primary emigrant trail from Virginia City, Nevada as early as 1849 and the only mountain pass that existed at the time. During the Gold Rush, this often forgotten highway served as a supply road for the Comstock silver mines in Nevada. In 1852, Henness Pass Road was a wagon toll road from Nevada to the gold field of California. Between 1860 and 1868, traffic was so heavy at times, that freight wagons had to travel by day and stagecoaches drove at night. Once the transcontinental railway was completed in 1868, the road was abandoned. Fortunately the road is still there and has been left to the more adventures among us.
Views
Henness Pass Road passes Sardine House and a 1,500 acre ranch that once stood in Sardine Valley. Weber Falls is at the top of a 25 foot pool that plunges into a waterfall of nearly 80 feet. Jackson Meadows Reservoir marks the halfway point. Henness Pass Road traverses the Middle Fork of the Yuba River, travels along the open pine forests and meadows above the Little Truckee River. In many places, the creeks wash over the road.  This pass is the lowest pass through the Sierra.
Traveling
From the East the road begins in Verdi Nevada, Old Dog Valley Road. then travels West over Henness Pass then drops down to the Middle fork of the Yuba River.  The road terminates at Camptonville California on highway 49.
Henness Pass, California 96126, USA